TAKE A TOUR
Take a walk through of the Gold & Braid Salon!
Amber is a Board Certified colorist and master stylist with over 18 years experience behind the chair. She has worked in all facets of the industry and was the brain child behind The Business of Balayage before selling her shares and moving on to open Gold & Braid Salon.
Her eye for color and passion for evolvement has kept her in the top of her industry. Her passion lies in training other stylists to experience the beauty in the industry.
STYLISTS
All of our stylists are independent and run their own business within Gold and Braid
Nick Huston has spent the last 14 years of his career specializing in cutting all hair types. His passion for short styles and making his clients feel their best has set him apart in the beauty industry. His desire to share that passion led him to become the Toni and Guy Director of Education focusing on cuts for the last 10 years.
Rene is a seasoned stylist with over 20 years experience in the industry. Her roots began in the Newport Beach / Costa Mesa area. She relocated to South Orange County when she founded Gold & Braid Salon in 2012. "My passion lies in making my clients feel and look their best. I love seeing that extra bounce in their step when they walk out the door."
Rene's specializes in women's short haircuts and bob's. As former owner she is proud to be a part of the Gold & Braid team as it continues to thrive.
Vanessa Simas has spent the last 15 years specializing in all hair types while focusing on women's styles and extensions. She loves giving her clients a great experience while building their confidence through the beautiful looks she creates. Her expertise in hairdressing and experience with management at Toni and Guy make her a wealth of knowledge and a perfect addition to the Gold & Braid family. With Portuguese as a second language sometimes you'll be lucky enough to hear her speaking it fluently in the Salon with her guests.
Kelly aims to create beautiful, lived-in looks
that reflect an individual's lifestyle.
Creative from a very young age, her artistic journey began in Southern California with clay in pre-school and evolved into an avant-guard art education in downtown Los Angeles.
She studied fine art photography and became obsessed with light. She met some amazing artists working as a professional photographer whose clients included Apple and Levi's. It was here she became exposed to the professional hair + makeup industry.
On the job inspiration from her team of industry professionals gave her the motivation to persue a career in beauty behind the scenes.
Kelly and her husband live in Laguna Beach with their dogter Frankie.
Amber is a bubbly brunette with a killer personality: she's super sweet and totally down-to-earth. But don't let that fool you, she's a powerhouse stylist with skills that are hard to find, from blowouts to makeup and waxing she does it all. With over 5 years of experience Amber truly has a passion for people. To her there is nothing more rewarding than making people feel like "their best selves".
Laurel Weinberg has spent the last 14 years building a strong technical and creative color and cut foundation at Toni and Guy. Her skills and desire to continually improve keep her embracing new challenges like color corrections and complete hair makeovers. You can expect a look that maintains longevity when you sit in her chair for your color or cut appointment. We are pleased to have her as a stylist at Gold & Braid Salon.
Laura has spent the last 16 years of her career specializing in color and chemical work on all hair types. She has a strong passion for education which led her to become the California Regional Technical Director of education for Toni and Guy hairdressing. Giving her the ability to share and grow within the industry.
She loves personalizing each service to her clients lifestyle and needs. They are the reason she loves her career and wants them to have that beautiful feeling when they leave.
Jamie has always had a love for styling hair. She graduated from Advanced Beauty College as a licensed cosmetologist with an emphasis in both cut and color. Jamie is always learning new things and continuing her education.She has been able to develop her skill in updos, braiding, balayage and is certified in Brazilian Blowouts.She simply loves making people look and feel there best.
Christel Mary has been in the hair industry since 2012. She started her career at TONI&GUY as a receptionist, moved on to be assistant, and finally a manager. She built her foundation as a specialized stylist for 5 years while she was there.
She has a passion for women's, men's and children's haircuts and has recently found love in hair color. She is certified in Advanced Cut & Color, Balayage and also offers extension services. Christel loves giving her clients personalized looks catered to their everyday lifestyle.
During her spare time, you can find her volunteering at her church, singing, dancing, and spending time with her family, friends, and fur babies, Metuca and Ari.
You can see her most recent hairstyles on her Instagram @Christel.styles
Hi, My Name is Casie. I was born and raised in Orange County, Ca. I have been doing hair for 10 years and counting. My love for hair started when I was a little girl, I would always cut and style my dolls hair. In High School my passion developed by doing all of my friends hair for special occasions and dances.

I attended Paul Mitchell Cosmetology school and after I graduated, I went on to complete the Toni & Guy masters cutting program. I feel that continuing education in this industry is crucial, I attend as many classes as I can in my free time to keep up with the constant changing trends. My Specialty is Womens Cut and Color. If you ask me what my favorite part of my job is the answer is EASY.... The most rewarding part is, building close relationships with my clients and making women feel beautiful about themselves.

When Im not working behind the chair, I enjoy spending quality time with my kids and my family going to the River. I love to water ski and wakeboard. I also love the beach and a good sunset
My love for hair began at a young age. In my teens, I would take every opportunity given to me to cut and style my friend's and family's hair. As undeniable as my passion for hair was, I was encouraged to go to college where I received my bachelors in Psychology. After graduating, I decided to go to beauty college to help support myself through the masters program to eventually be able to do therapy(become a therapist). However, as my skills grew at beauty school, so too did the realization of how deeply fulfilled a profession in beauty (hair) made me feel.
Today, my consistent(constant) desire to perfect my craft motivates me to continue my education in the hair business. The results, as well as reignited confidence I bring my clients, fuels my passion for the art of hair. I specialize in color, though I do it all when it comes to hair. I especially love dimensional color, covering gray, reds, and all shades of blonde. I ensure a very natural, long-lasting look no matter your color. I am trained and certified in Schwarzkopf color and have the pleasure of being a hairstylist at Gold and Braid in Mission Viejo, Ca.
Her work can be seen here: @hairbyloree
Master Stylist/Colorist Wil Barnes has recently joined the team at Gold & Braid Salon in Mission Viejo, Ca. Orignially the owner of W Salon Studio in San Juan Capistrano for 8 years, Will made the decision to remove himself from salon ownership and return to the specializing the craft that he so enjoys.
Wil specializes in advanced hair cutting techniques and dimensional highlighting and coloring. He has enhanced his skills of razor cuts and weightless cuts that give hair extra volume. He has mastered color and cutting skills and adapted them perfectly for his clients. Wil has perfected the vision of selecting the perfect style that works best for the client's face and lifestyle.
His education includes specialized classes from Goldwell Color, Paul Michell and Tony & Guy as well as obtaining his cosmetology certification from San Diego City College in 1988. As Wil explains, "I thoroughly enjoy my relationship with my clients and I feel I've mastered advanced color and cutting skills, and adapted them to work perfectly for my clients in their everyday life, making their hairstyle work for them".
Katie is a Bay Area native who moved to Orange County after cosmetology school. She immediately fell in love with the Southern California lifestyle and knew she would stay here forever! Katie believes that in an ever changing industry, we are never done learning. She loves attending classes and hair shows as often as possible. She is a Redken color specialist, blonding specialist, and a haircut specialist. She has a complete understanding of hair and loves to share this knowledge with her clients. During her time off, you can usually find her at a park with her two kids somewhere in South Orange County.
Michelle is a southern California native who has been working in the hair industry for over 15 years. As a former lead instructor for Toni and Guy, Michelle is well versed in technical cuts and has harnessed her advanced training to specialize in cutting edge hairstyles and classic updos. Treat yourself to a look that enhances your most flattering features and highlights your natural beauty.
Hi, my name is Olivia!
I started doing hair in 2013 and fell in love with this career. My passion is to make women feel naturally beautiful. I love effortless color that looks designed by the sun. I want my clients' hair to look amazing, but feel easy and manageable.
Dani was born in Costa Rica, has a degree in Architecture and a background in Design. She obtained her cosmetology license from Paul Mitchell school in 2003, and her love for art and science have led her back to her passion for hair. Although she had been devoted to haircutting, she has found a new love for color and continues to attend classes to better her craft. She loves to create sunkissed lived in looks and fun shapes on short hair. Dani lives with her husband and two kids in RSM. See some of her latest work on her IG page @danigonzalezhair
Mckenna has spent the last 6+ years mastering her craft of hair color. Passionate and hardworking at a very young age she strives to always make her clients look and feel their best. Her color specialties include Balayage, Highlights/Babylights, Grey Coverage & All over colors. She also specializes in Keratin & Brazilian Blowout Smoothing Treatments, and Tape in Extensions. She is constantly attending education classes for hair color and hair cutting to keep up with the newest hair trends! She welcomes you in and can't wait to meet you!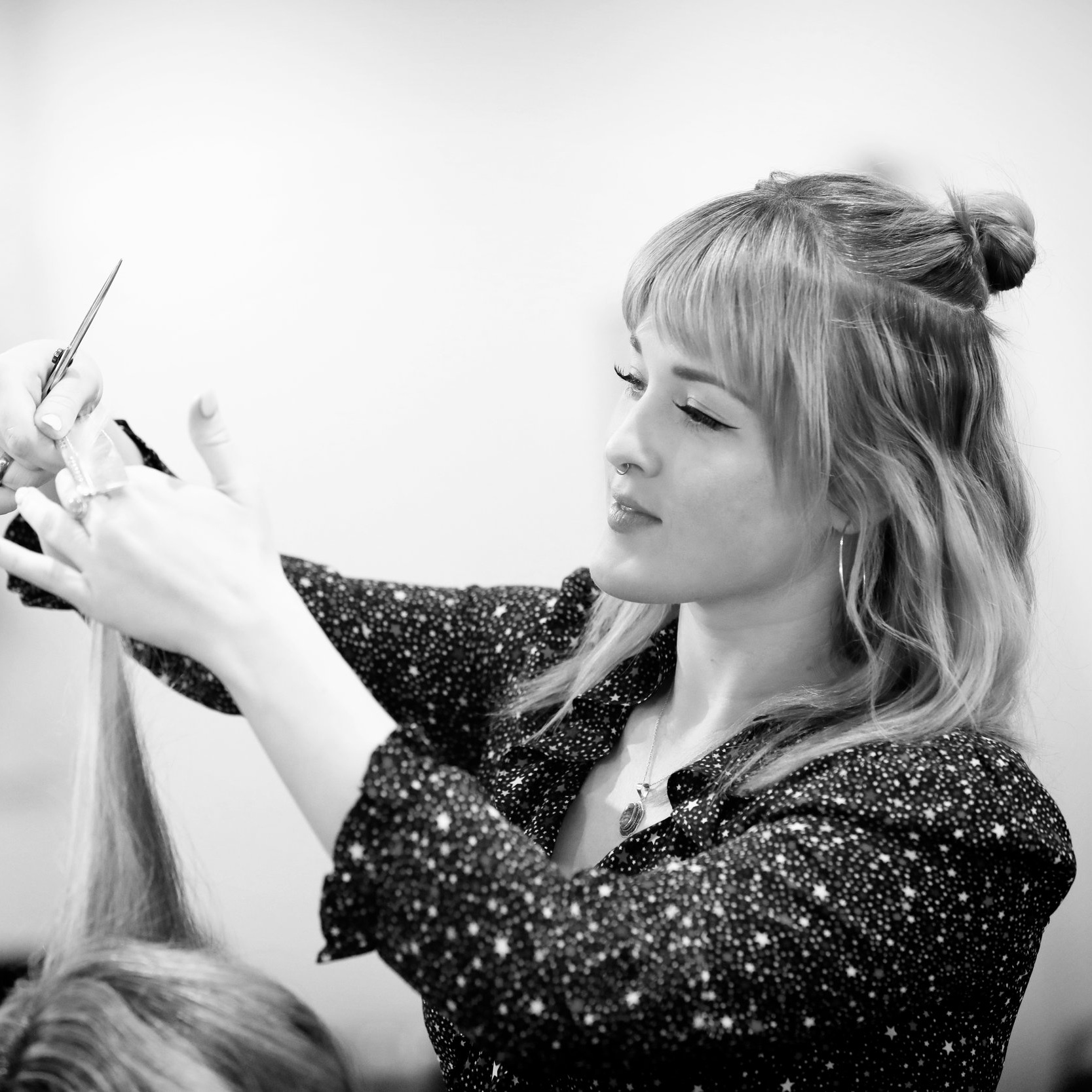 With 8 years of experience behind the chair, Cassie Day is always looking into perfecting her craft. A new resident to South Orange County from Long Beach, Cassie is welcoming new clients to expand her horizons in her new home! Cassie is someone who wants you to feel comfortable and happy from beginning of appointment to the end result! Specializing in enhancing natural hair colors with balayage and highlighting, vintage styling, and creative fun haircuts, Cassie is game for just about anything! She finds many inspirations in nature through her love of the outdoors but also draws influence from fashion and isn't afraid to tackle a unique project. With an appreciation for Beyoncé, mental health awareness, the beautiful Californian landscapes, and travel, when she's not at work Cassie can be found seeing live music, working out, cooking, or finding a new adventure.
Tia is always striving to make her clients feel and look their absolute best! She believes doing your hair should be the easiest most stress-feee part of your day. Her goal is to create a natural, effortless look that will best compliment each individual clients features and lifestyle. She is always striving to keep the integrity of her clients hair, because healthy shiny hair is the most beautiful hair! Tia is always staying current with the latest color and cut trends by regularly attending cutting and coloring education. She uses Loreal professional, goldwell, redken color lines, and is also certified in Brazilian Blowout Smoothing Treatments.

Ashley has been working behind the chair for 12 years. She specializes in Brazilian Blowouts, all color techniques, and classic cuts. She is passionate about continuing education and keeping up with new trends and the latest techniques. Outside the salon, she can be found spending time with her husband and 5 year old daughter. She also enjoys working out, traveling, fashion and cooking!
Danielle Roth is a talented stylist with a passion for hair. With over 10 years experience within the hair industry, she believes, the key to one's success is having a strong passion for customer service, a dedicated work ethic and always striving for excellence through continued education. Danielle truly loves being able to positively impact her client's lives by helping them feel confident and beautiful.
A few of examples of Danielle's experience and expertise are: extensive color classes taught by some of the top L'Oréal instructors, classically trained in multiple Tony & Guy cutting techniques, and certified in both the highly demanded Brazilian Keratin treatment as well as the Keratin Coppola smoothing treatment. Her passion for mastering different color techniques led her to also further her education in both Balayage and Ombre. Danielle looks forward to being able to continue to live out her passion for changing her client's lives and helping them feel and look better every day.
Emily started her career at Vidal Sassoon learning the best foundational skills this industry has to offer. After graduating from Vidal Sassoon, she immediately began her career by immersing herself into every color class the industry has to offer. Along this journey she found a passion in honing and perfecting her color techniques. She then joined The Business of Balayage as an educator, and has had many great experiences traveling and teaching amazing stylists all over the country. She now found her salon home at Gold & Braid and enjoys having a balance of being behind the chair and teaching balayage classes to her fellow stylists at the salon. She specializes in color, cutting, and "Hot Heads Tape-in" hair extensions. Emily is fun, bubbly, and you will never be bored while she gives you the hair of your dreams when you sit in her chair.
Charlene is a diverse hair stylist and Goldwell color specialist with over 20 years of experience. She has built her career in both Scottsdale, Arizona and here at home in Southern California. During her time in Scottsdale she became an Ambassador Educator for Kerastase Paris Loreal and is a Certified Keratin Smoothing Treatment Specialist. She is known for her fresh style and upbeat personality, and loves being challenged by unruly, curly, frizzy hair. Charlene is a master at long hair styles and is the sought after stylist by clients and co-workers alike when it comes to Blow-dries, due to her ability to create lasting results that can be enjoyed and appreciated for days.
Charlene will be expanding her expertise here at Gold and Braid as a thinning hair and pattern baldness expert for both men and women. She is a lead Trichology Expert in South Orange County and certified with the US Trichology Institute.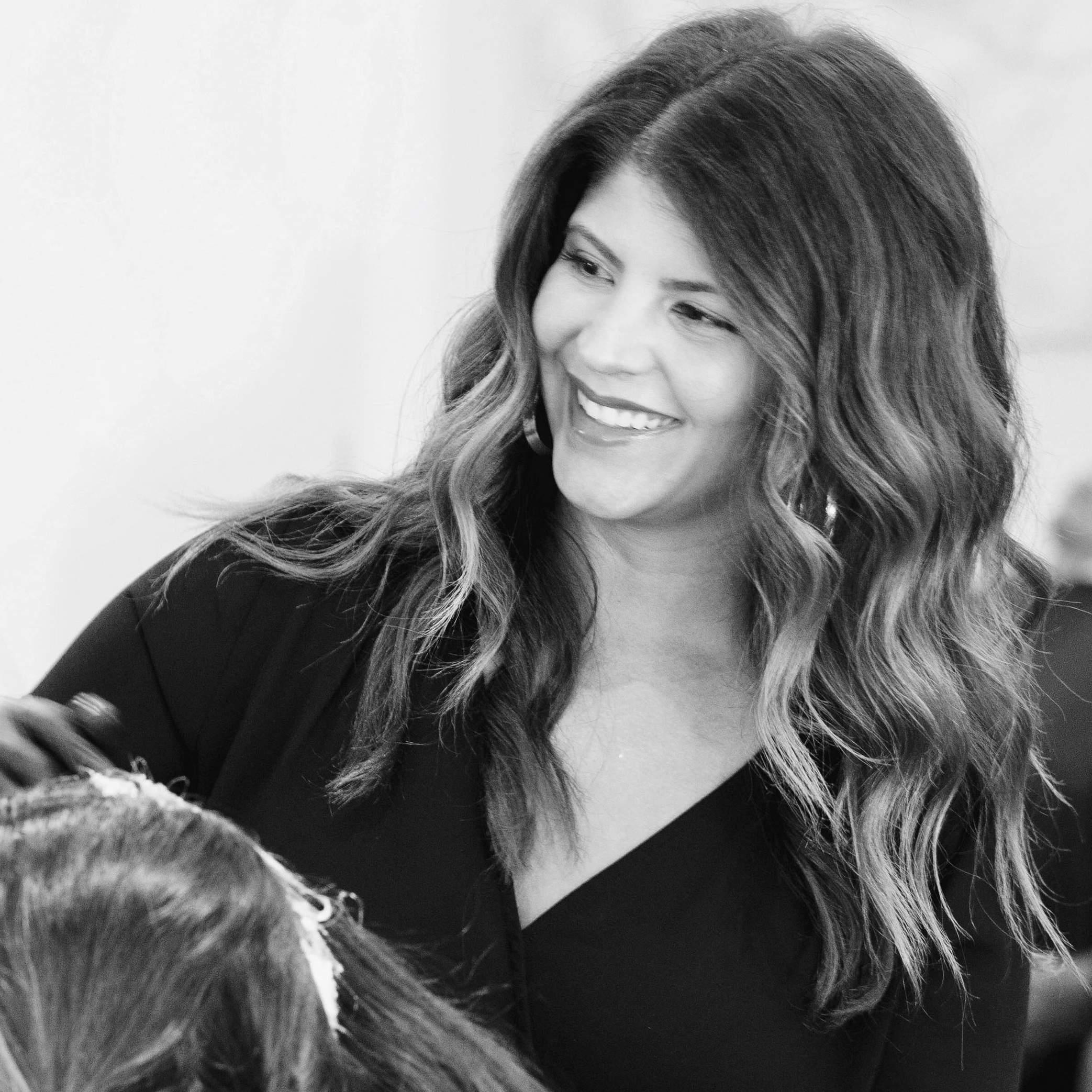 Meet Genevieve (ig @vreber). She's been in the hair world for 15 years after coming from a science and art background. Some highlights: Vidal Sassoon training, Bumble and bumble session stylist, L'oreal Professionnel color trained as well as several independent education certification classes, straight razor trained, and more. She has taught and co-taught color and styling classes with the most recognized names in the industry and has a passion for sharing with her co-workers . She currently travels between a few states (CA, AZ, ID, UT) and has clients from all over the country. Having worked doing hair for NYFW, TV segments, photoshoots, celebrities, athletes, and other high profile clients she brings her eye for high end styling into everything she does. She specializes in color, cut, fashion colors, styling as well as extensions. No one has the same hair so everything she does is customized for just you. When she's not at the salon she's out being a rad mom and adventuring with her son with plenty of rad stories to tell!